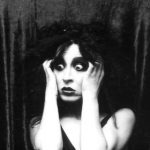 I never met Elda Stilletto, who died unexpectedly on August 6. But I'd corresponded with her on social media, and I'd hoped to interview her about her role during the New York underground's crucial moment of artistic churn between Andy Warhol's Factory and the rise of CBGB.
In her music and her friendships, Elda Stilletto (née Gentile) was at the center of a New York scene at the cusp of the '60s and '70s that included Warhol's superstars; nascent icons of punk; and the luminaries of the city's glitter-punk movement such as The Magic Tramps (whose lead singer, Warhol superstar Eric Emerson, was the father of her son Branch); The Harlots of 42nd Street; Teenage Lust; and Wayne County and the Backstreet Boys.
Elda's most enduring role in rock-'n'-roll history was as leader of The Stillettos, a band that emerged from the Max's Kansas City scene and served as a springboard for Deborah Harry.
In a New York Public Library podcast alongside Chris Stein (who also played in the group before co-founding Blondie), Harry described the birth of The Stillettos: "I saw Elda at Max's, Elda Gentile, and I had known her from The Dolls days. I was there to see a band. I don't remember which one. She said that she had a band with [Warhol superstar] Holly Woodlawn. I said, 'Give me your number because I really want to see.' So I called her and she said that the band had broken up, and I said, 'Well let's start another band.' And that's what we did… It grew from Elda's love of cabaret and rock and my interest in rock and R & B. And then we had another singer Roseanne [Ross] who was very much into soul and R & B and gospel, so we just all took turns singing our favorite kind of music, and eventually, we actually got musicians to play with us."
Cheetah Chrome of The Dead Boys and Walter Lure and Billy Rath of The Heartbreakers also played with The Stillettos. Other notable guests in The Stillettos' musical feast included Sylvain Sylvain (a paramour of Elda's); Robert Fripp; Johnny Thunders; and Lenny Kaye of the Patti Smith Group.
In an obituary she posted to Facebook, her sister Diane Gentile addresses Elda's many accomplishments beyond the Stillettos:
Beside being a young single mother, she released 2 albums; one with The Stillettos and one solo album recorded and written with Owen Swenson and her son Branch Emerson titled Diamonds in the Rough, a record that received significant amount of airplay at College Radio Additionally, she designed the flags that hang over the Cloisters during the Medieval festivals and taught art classes for kids. She was an avid pop art quilter and designed and sewed large quilts. She sewed and created all of her own on stage outfits in all of her bands. She sewed for the NY Dolls who were her friends. She was a painter. In her home hang many of her paintings. She produced concerts: The Montauk Nature Conservancy Concerts with Paul Simon, Billie Joel, Willie Nelson and an array of other stars. She was the booking agent for the legendary Bay Streets Nightclub in Sag Harbor, booking artists like James Brown and Tina Turner. She wrote, produced and directed fashion theater shows at Bay Streets Nightclub and took them to Hurrah in NYC, with the hottest designer clothing. She sold advertising for the popular Dan's Papers throughout the East End of Long Island and was instrumental in expanding the 6 page editorial rag to a full 20 plus page glossy. She was an internet pioneer and implemented Radio Woodstock TV, one of the first digital Television stations. She produced shows for Radio Woodstock and for Radio Woodstock TV. She produced a morning show on the radio station and often, her friend Joey Ramone, would visit with her on air. She worked as a producer for many Radio Woodstock events and struck up friendships with local artists Rick Danko and Richie Havens. At one point, she had a local baking business for a while called Branch's Breads and used to bake at 4am to deliver homemade breads to the local bakeries on the Lower East Side. Elda's last endeavor was her position as interviewer and idea person to the newly found Creative MX company. In this role, she was amassing a series of interviews with accomplished artists for the Creative MX website. She just signed a book publishing deal for her life story and was preparing an archival of her performance clips and photos for her book tour. She also wrote 2 screen plays, one based on the story of the Bratles and one based on her life in the Warhol scene.
She leaves behind many loving friends and fans who hail her role in the history of New York art and music. RIP.
Related stories:
Comments
comments