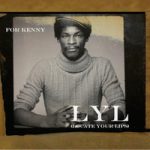 When I first traced five key bands of the Milwaukee scene from the late '70s and early '80s, one act remained a tantalizing enigma: Locate Your Lips.
Locate Your Lips' drummer was the late Kenny Baldwin, founder of the Milwaukee alternative club The Starship, who passed away in September 2015. (Before his death, Baldwin was interviewed for the forthcoming epic Milwaukee music documentary Taking the City by Storm.)
A contemporary article in the Milwaukee Sentinel describes Locate Your Lips' sound as "somewhere between the rock of the mid-1960s British Invasion and that of the recent new wave explosion."
Beyond that fleeting mention, there has been precious little information available to me about LYL — and no public audio record of the band.
Now that gap has been filled with For Kenny, a two-CD release digitally edited and mastered by Otto & the Elevators' Gary Tanin and slated for release April 5 that includes a live performance recorded in May 1985 for broadcast on WQFM radio as well as 10 tracks recorded in November 1984.
The three-piece lineup featured on For Kenny represents the second incarnation of Locate Your Lips; an earlier version comprising Baldwin and bassist/vocalist Andy Cavaluzzi had played at the top of the '80s before Baldwin formed Colour Radio with a lineup that included ex-Shivvers guitarist Jim Eannelli. Baldwin, Cavaluzzi and Eannelli would team up to form the mid-'80s LYL captured here.
And this album is worth the wait! At its best, LYL's power-pop melodies and instrumental skills merge with a vicious garage edge worthy of the Stooges. Thirty-five years later, this group is finally getting its due.
In addition to the double-disc edition, For Kenny is available for download on CDBaby and iTunes.
Comments
comments