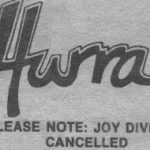 It wasn't as early to the party as Max's Kansas City, CBGB or Coventry, but Hurrah on West 62nd St. was the first big-time venue for punk and New Wave on New York's Upper West Side.
Hurrah was open from 1976 to 1981. For the last two years, it benefited from the talents of legendary New York booking agent Ruth Polsky, who shook up the scene before her death on the steps of New York's Limelight club at age 32. Polsky's connections to emerging acts in the U.K. added another dimension to a club that already featured up-and-comers from Los Angeles, Boston and other domestic sources.
Five years was all it got … But along the way, Hurrah featured a dazzling array of local acts and out-of-towners and earned more than its share of notoriety.
At a Skafish show on Dec. 5, 1978, Sid Vicious (already on bail for the murder of Nancy Spungen) assaulted Todd Smith (brother of Patti), for which he was arrested a few days later. Like many other U.K. bands, Joy Division was scheduled to make its U.S. debut May 21-23, 1980, at Hurrah before singer Ian Curtis' suicide May 18.
For a tasting menu of the talent that played Hurrah, you can't do better than these five outstanding performances recorded for posterity.
1. Suicide, Oct. 1, 1980. A band whose influence far outstripped its commercial success, the team of Alan Vega and Martin Rev blazed a trail from 1968 until Vega's death in 2016 at age 78. Suicide was describing itself as "punk" by 1970, and its menacing sound and stage presence has been hailed as influential by acts from Nine Inch Nails to Bruce Springsteen.
This performance at Hurrah was filmed by Merrill Aldighieri (who also shot Hurrah gigs by Mission of Burma, Insect Surfers and others).
2. New Order, Sept. 26, 1980. Four months after Ian Curtis' suicide ended plans for Joy Division's North American debut, his erstwhile bandmates made their first U.S. appearance at Hurrah under the name New Order, opening for A Certain Ratio.
3. The Ramones, August 11, 1978. What New York club calendar would be complete without The Ramones? This set was the first in a three-night stand supported by Mumps, the punk outfit fronted by Lance Loud (who first rose to fame on the reputation of PBS' 1973 series An American Family).
4. The Cure, April 15, 1980. The British goth pioneers played just six gigs on their first U.S. tour — three of them at Hurrah. Vocalist and guitarist Robert Smith recalled, "We'd obtained cult status out there but we only played New York, Philly, Washington and Boston. We played three nights – 15, 16 and 17th – at Hurrah in New York and it was packed."
This recording of "Seventeen Seconds" (the title track of their new album) was captured the first night of The Cure's residency at Hurrah.
2. David Bowie, 1980. This wasn't a public performance, strictly speaking, but the Thin White Duke took over Hurrah for the music video of "Fashion," directed by David Mallet. The club was draped in khaki canvas for the occasion … Nevertheless, the club's trademark mirrors are visible throughout. (Turn to the left! Turn to the right!)
Comments
comments