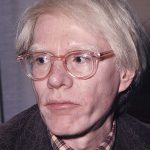 Most fans with even a passing knowledge of The Velvet Underground know about its close connection with Andy Warhol. The band coalesced as part of the retinue of performers and personalities (a k a "superstars") connected to the Pop legend's Factory studio on East 47th Street.
You've heard the story: Warhol introduced Nico to the VU's front line, exposed them to New York's intelligentsia at his "Plastic Exploding Inevitable" events, and enabled the production of its first album. Peel slowly and see!
Despite all the amputations, Warhol and his Factory remained touchstones for the band and its members after their partnership ended. From the characters in Lou Reed's "Walk on the Wild Side" to Reed's and John Cale's reunion homage to their late mentor (Songs for Drella), the Factory is a cornerstone of the Velvet edifice.
But those were different times: After the Velvet Underground's salad days, other participants in Warhol's entourage would stake their own claims to rock-'n'-roll history. Here are 5(-plus) acts whose Factory connections you should know about.
1. The Village Fugs/The Holy Modal Rounders. Let's start with a twofer. The Velvets weren't actually the first band Warhol considered grooming for his productions; their contemporaries in Greenwich Village's art circles were filmed at the Factory in 1965 as prospects for future Warhol spectacles.
Although neither the Fugs nor the Rounders ultimately gibed with Warhol's futuristic aesthetic, both of these bands (which swapped members over their respective histories) were respected by the notoriously judgmental Velvet Underground. "The Fugs, the Holy Modal Rounders, and the Velvet Underground were the only authentic Lower East Side bands," said VU guitarist Sterling Morrison as quoted in Downtown Pop Underground. "We were real bands playing for real people in a real scene. We helped each other out if we could and generally hung out at the same places."
(Fun bit of Fugs/Velvets trivia: Charles Larkey, who played bass with The Fugs in 1967 and 1968 and was later husband and collaborator of Carole King, was the bassist for The Myddle Class back in 1965. The Myddle Class in turn were the headliners when the Velvet Underground made its official debut Dec. 11, 1965, at Summit High School in New Jersey.)
2. Jackson Browne. One of the more unusual pairings on the list: Jackson Browne first surfaced in New York as the young paramour of Nico and a Factory regular. (As Browne allegedly put it to Richard Meltzer: "I'm a mere teenager in from sunny California for less than a month, and I'm sleeping with the most beautiful girl in the world!")
The 19-year-old Browne (who had started his career as a founding member of Long Beach, California's Nitty Gritty Dirt Band) wrote songs and played guitar on Nico's first solo album, Chelsea Girl. "These Days" is among Browne's contributions to the record (produced by Tom Wilson, the legend behind the Velvet Underground's debut album and a Murderer's Row of other classic records).
3. The Magic Tramps. Stars of the glitter-punk scene that foreshadowed New York's first-wave punk explosion, The Magic Tramps moved from Hollywood to New York as a vehicle for Warhol superstar Eric Emerson.
(Emerson is notable in Velvet Underground lore as the superstar whose superimposed image initially appeared on the back-cover image of The Velvet Underground & Nico. Emerson threatened to sue for compensation, and MGM opted to recall the records and airbrush him out of the picture.)
Starting in 1971, The Magic Tramps played New York hot spots like the Mercer Arts Center, Max's Kansas City and Coventry. While attributed to a hit-and-run while riding his bike, Emerson's death in 1975 remains shrouded in mystery.
And representing another line from the Factory scene of the '60s to New York's '70s punk explosion: Emerson had a son with Elda Stilletto, leader of The Stillettos, a band that emerged from the Max's Kansas City scene and served as a springboard for Blondie's Deborah Harry and Chris Stein.
4. Wayne County. A transgender pioneer now named Jayne County, this transplant from Dallas, Georgia, and in 1969 was asked by Warhol superstar Jackie Curtis to appear in Curtis' play Femme Fatale, in which County co-starred with Patti Smith.
County moved closer into Warhol's orbit when he asked her to appear in his play Pork, which debuted in New York in May 1971 and also enjoyed an August 1971 run in London.
Compiled from transcriptions of phone conversations with his Factory entourage that Warhol had taped, Pork caught the attention of the young David Bowie, who met the London cast and crew and made key connections for his first visit to New York.
Building on her theatrical appearances, Wayne County fronted a variety of New York bands — starting with Queen Elizabeth, then Wayne County and the Backstreet Boys, which also featured drummer Marc Bell (soon to be known as Marky Ramone).
Next up were Wayne County & the Electric Chairs; here they are playing Jayne's signature "Are You Man Enough to Be a Woman?"
5. David Bowie. Since entry #1 in this post, included two acts, it's only fair that #5 come with a caveat: Despite David Bowie's admiration for the Velvet Underground and the denizens of the Factory, he and Warhol only met once in their lives — and the chemistry between the two failed to catalyze.
Before his own star had fully risen, Bowie's encounter with the London cast and crew of Pork introduced him to Warhol's circle, including a number of figures who would prove important to his own operation. Notably, Cherry Vanilla (who starred as Amanda Pork) would become Bowie's publicist; Pork stage manager Leee Black Childers would become one of Bowie's  most iconic photographers; and Tony Zanetta (who played the Warhol figure B. Marlowe in Pork) would manage several Bowie tours — and introduced Bowie to Warhol when Bowie first arrived in New York.
As Zanetta describes it, "We all marched over to The Factory. The meeting was kind of tense because Warhol was not a great talker, you had to talk and entertain Andy, and David really wasn't a great talker, either. Nobody was really taking this conversation and running with it. So they were circling each other and then David gave him a copy of Hunky Dory on which was his ode to Andy Warhol, the song Andy Warhol.
"We probably played it, I can't remember. Warhol didn't say anything but absolutely hated it. Which didn't help the meeting. Remember, David Bowie was not a big star. He was just some guy off the street as far as Andy Warhol was concerned. They found a common ground in David's shoes. David was wearing yellow Mary Janes, and Andy had been a shoe illustrator, which David knew so they began talking about shoes. Otherwise it was not the greatest meeting [laughs]."
Did that awkward reception in 1972 prompt Bowie's portrayal of Warhol in the 1996 film Basquiat? Knowing the back story, it's hard not to suspect a bit of payback there.
Comments
comments