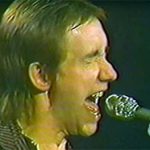 Footnotes of fandom: I was the Violent Femmes' first California follower. My family lived in Milwaukee for a couple years before we moved to San Diego in time for junior high. I kept friends there, though, and that's how I ended up seeing the Femmes at Milwaukee's Jazz Gallery in June 1981, just a few months after the band formed. On August 23, 1981, the Pretenders spotted the Femmes busking in front of the Oriental Theatre and invited them to open that night; the rest is college-radio history.
If you're interested in Violent Femmes prehistory and the Milwaukee scene at the turn of the '80s, here are five bands you should know about:
Want the inside scoop from Milwaukee's veteran scenesters? Check out the Facebook group Lest We Forget: Deceased Milwaukee Scene. 
Comments
comments