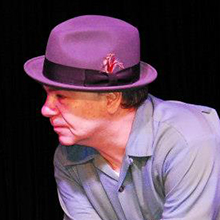 Peter Rossi is a Los Angeles-based filmmaker — but in the early '70s, under the name Peter Ashley, he played guitar in Street Punk, one of the forgotten stalwarts of the New York music scene that rose alongside the New York Dolls and presaged the Ramones.
Now Rossi is combining his professional passions with a film project aimed at documenting and celebrating the bands, street artists and poets of New York's protopunk scene. (The working title is You're In or You're Out/Urine or UR Out.) Rossi describes the style — which is in pre-production through his company Tantamount Productions — as "cinéma vérité meets 'The Last Waltz,' and he's networking with his contemporaries and other fans to raise the money to bring the project to a screen near you. (As actor and veteran New York musician Fenton Lawless remarked in a Facebook discussion, the project is "what Vinyl promised but failed sooo miserably. … It needed a Peter Rossi.")
While many bands that powered the scene have expressed excitement about gathering for a live event 40 years later, Rossi emphasizes that he's not looking to document a reunion that simply retreads the participants' back catalogs. "This is about catching up with the artists who still have the fire in their souls," he says.
Rossi is rallying some of the top acts of the era to top the bill again and demonstrate the chemistry that made New York a catalyst for a new generation of music.
In addition the chart-toppers, the event will provide an opportunity to hear other, worthy bands that played Coventry, Mercer Arts Center and Max's Kansas City, including the Magic Tramps, the Harlots of 42nd Street and Teenage Lust (all of whom we've profiled here).
And the list goes on. Without further ado, here are five more bands that were essential to Peter Rossi's scene:  Continue reading "I was a teenage Street Punk: Peter Rossi, NY's glitter-punk underground and 5 bands you should know about"