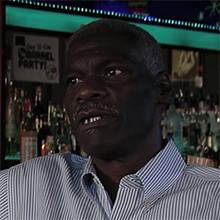 Milwaukee is among the smallest cities I've covered so far on FiveBands, but the passion and creativity of its rock-'n'-roll scene has long rivaled the biggest towns on the musical map.
Sites like Milwaukee Rock Posters and social media groups like Lest We Forget: Deceased Milwaukee Scene are magnets for local lore, and scene veterans have been tireless in their efforts to make their history known.
Case in point: Taking the City By Storm, an epic documentary of the Milwaukee underground. Currently slated for release in 2018, the film is directed by Doug LaValliere (one of Milwaukee's accomplished LaValliere brothers and a co-founder of the Prosecutors with Kevn Kinney, later of Atlanta underground sensations Drivin' N Cryin').
The producers are Judy Simonds and Clancy Carroll of the Dominoes and Clancy Carroll Band. (Carroll is also co-author of a new and improved book, Brick Through the Window: An Oral History of Punk Rock, New Wave, and Noise in Milwaukee, 1964-1984. Buy it via the Boswell Book Company site!)
Continue reading "Milwaukee rising: "Taking the City by Storm""