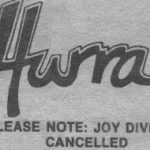 It wasn't as early to the party as Max's Kansas City, CBGB or Coventry, but Hurrah on West 62nd St. was the first big-time venue for punk and New Wave on New York's Upper West Side.
Hurrah was open from 1976 to 1981. For the last two years, it benefited from the talents of legendary New York booking agent Ruth Polsky, who shook up the scene before her death on the steps of New York's Limelight club at age 32. Polsky's connections to emerging acts in the U.K. added another dimension to a club that already featured up-and-comers from Los Angeles, Boston and other domestic sources.
Five years was all it got … But along the way, Hurrah featured a dazzling array of local acts and out-of-towners and earned more than its share of notoriety.
At a Skafish show on Dec. 5, 1978, Sid Vicious (already on bail for the murder of Nancy Spungen) assaulted Todd Smith (brother of Patti), for which he was arrested a few days later. Like many other U.K. bands, Joy Division was scheduled to make its U.S. debut May 21-23, 1980, at Hurrah before singer Ian Curtis' suicide May 18.
For a tasting menu of the talent that played Hurrah, you can't do better than these five outstanding performances recorded for posterity.
Continue reading "Hurrah! 5 great gigs from a forgotten NY club"