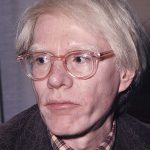 Most fans with even a passing knowledge of The Velvet Underground know about its close connection with Andy Warhol. The band coalesced as part of the retinue of performers and personalities (a k a "superstars") connected to the Pop legend's Factory studio on East 47th Street.
You've heard the story: Warhol introduced Nico to the VU's front line, exposed them to New York's intelligentsia at his "Plastic Exploding Inevitable" events, and enabled the production of its first album. Peel slowly and see!
Despite all the amputations, Warhol and his Factory remained touchstones for the band and its members after their partnership ended. From the characters in Lou Reed's "Walk on the Wild Side" to Reed's and John Cale's reunion homage to their late mentor (Songs for Drella), the Factory is a cornerstone of the Velvet edifice.
But those were different times: After the Velvet Underground's salad days, other participants in Warhol's entourage would stake their own claims to rock-'n'-roll history. Here are 5(-plus) acts whose Factory connections you should know about.
Continue reading "Factory fresh: 5 acts processed by Warhol's machine"