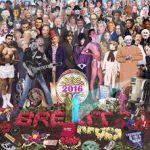 Those of us who admire music-makers of renown shared many hard losses over the past year. And many us who treasure our own music scenes have lost local heroes as well.
Time passes, and young lions grow older — since their mortality reminds us of our own, and the music they made reminds us of our receding youth, it's always personal. And for those of us of a certain age, 2016 seemed way too close for comfort.
But we'll always have the music. On the eve of a year I hope will bring more good news than bad, I thought we'd take a quick tour of five shows from New Years past (and revisit some 2016 highlights from FiveBands):
1. The Grande Ballroom, Detroit: New Year's Eve 1970. Featuring the MC5, the Amboy Dukes and the SRC, the show was billed as the grand reopening of the Grande Ballroom, the Detroit scene's quintessential venue of the era.
2. Coventry, Queens: New Year's Eve 1974. This Queens club pre-dated CBGB and hosted an eclectic assortment of performers, from Link Wray to The New York Dolls to KISS (which played its first gig there). This New Year's Eve show kept the variety going: Between headliner Wayne County and the Backstreet Boys and opener the Harlots of 42nd Street (New York Doll David Johansen's favorite rivals) was Exuma, the elusive Bahamian artist (and favorite of Nina Simone) whose career stretched from Greenwich Village gigs with Bob Dylan and Richie Havens to appearances with Black Flag and X.
3. The Rat, Boston: New Year's Eve, 1977. The cornerstone of Boston's punk scene waved goodbye to 1977 with three club regulars: The Real Kids, DMZ and Tracks.
4. The Spirit, San Diego: New Year's Eve, 1980. Bringing it all back home, the Penetrators and the Unknowns were heroes in my own hometown at the turn of the '80s, and their creative competition made for many memorable shows. Jerry Raney is a San Diego guitar legend whose credits include '60s combo Glory as well as the Beat Farmers (led by ex-Penetrator Dan McLain, a k a Country Dick Montana). And Land Piranha is best remembered as a vehicle for beloved radio personality Jim McInnes (who the Penetrators listed as "spiritual advisor" on one of their albums).
5. 7th Street Entry, Minneapolis: New Year's Eve, 1980. Just for fun, I thought I'd check out what was happening in Minneapolis the same night the Pens and Unknowns were ringing in the new year in San Diego. At First Avenue's legendary 7th St. Entry (a pulse point of the Twin Cities' underground scene), Hüsker Dü was holding down a modest second opening spot at a gig that headlined Minneapolis punk pioneers NNB.
Your turn: What New Year's shows stand out in your memory?
Comments
comments