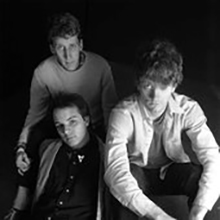 It opened on Valentine's Day 1987 and shut down after one last Circle Jerks gig on June 28, 1988 — but during its short span, Community World Theater in Tacoma, Washington, hosted formative gigs for a cast of musicians who would shape the industry in the 1990s.
As a footnote in history, the refurbished 1924 movie theater run by local promoter Jim May is most often mentioned as the venue where Nirvana played some of its earliest shows under names like Skid Row, Pen Cap Chew and Ted Ed Fred (as well as its first show under its final moniker on March 19, 1988).
But scratch the surface of the wonderful live history compiled by Mike Ziegler to discover hundreds of connections to other bands of vast influence.
Direct from Community World Theater, here are five bands you should know about:
64 Spiders. His subsequent band, Cat Butt, was almost famous — with a Sub Pop album and a national tour to its name — but despite its short history and limited distribution (one seven-inch released in an edition of 500), James Burdyshaw's 64 Spiders also commands the respect of Northwest scenesters. Members of 64 Spiders would go on to participate in myriad Washington bands, including drummer Scott McCullum, who would succeed future Soundgarden and Pearl Jam drummer Matt Cameron in Skin Yard.

Nisqually Delta Podunk Nightmare. While 64 Spiders only released 500 records in its lifetime, the sole online evidence of Nisqually Delta Podunk Nightmare appears to be a super-crunchy live performance from 1986 on Evergreen State College's KAOS radio station. The band (which shared a stage April 18, 1987, with the pre-Nirvana Skid Row) included Slim Moon, who would go on to found the Kill Rock Stars label, as well as Dylan Carlson, whose later band Earth would include guest turns by Nirvana's Kurt Cobain.
Dangermouse. Speaking of KAOS: Two DJs at the station, John Goodmanson and Donna Dresch, were co-founders of Dangermouse, which played often at the Community World Theater. The pair were instrumental in arranging Nirvana's first radio appearance (as Skid Row, April 17, 1987, the day before they joined Nisqually Delta Podunk Nightmare, Soylent Green and Yellow Snow at Community World Theater). John Goodmanson would go on to produce and engineer bands including Bikini Kill, Death Cab for Cutie and Sleater-Kinney; queercore pioneer Dresch would found Chainsaw Records as well as the band Team Dresch.
and 5. Bundle of Hiss and H-Hour. If you didn't have plans Sept. 5, 1987, Community World Theater would have been a fantastic place to spend the evening: Both acts at the top of the bill would soon contribute core members to TAD, the venerated almost-famous band that would go on to headline Nirvana's first European tour in 1989.
In this corner, Bundle of Hiss, featuring founding bassist Kurt Danielson; guitarist/vocalist Jamie Lane; and drummer Dan Peters (the last in a long line of players to fill that position since Bundle of Hiss formed in 1980).

In the other corner, H-Hour, a band that at the time was commuting in from Boise, Idaho. H-Hour comprised Johnny Clint (vocals); Darren Peters (bass); Danny Brown (guitar); and Tad Doyle (drums).

Like so many other Community World Theater acts, members of both bands would go on to greater fame in other bands. Bundle of Hiss drummer Peters would co-found Mudhoney; H-Hour's Clint and Peters subsequently formed Willard. Their H-Hour bandmate Doyle would support Bundle of Hiss in the studio before he and Bundle of Hiss' Danielson launched TAD.
For its part, TAD become one of the first bands signed to Sub Pop Records and the headliner above Nirvana on a six-week 1989 tour of Europe. As a bonus, check out this video of Kurt Cobain filling in for the temporarily unconscious Tad afterduring a Nov. 26, 1989, tour stop at the Bloom club in Mezzago, Italy — 5,386 miles and two long years from Tacoma and both bands' beginnings at the Community World Theater.

Comments
comments